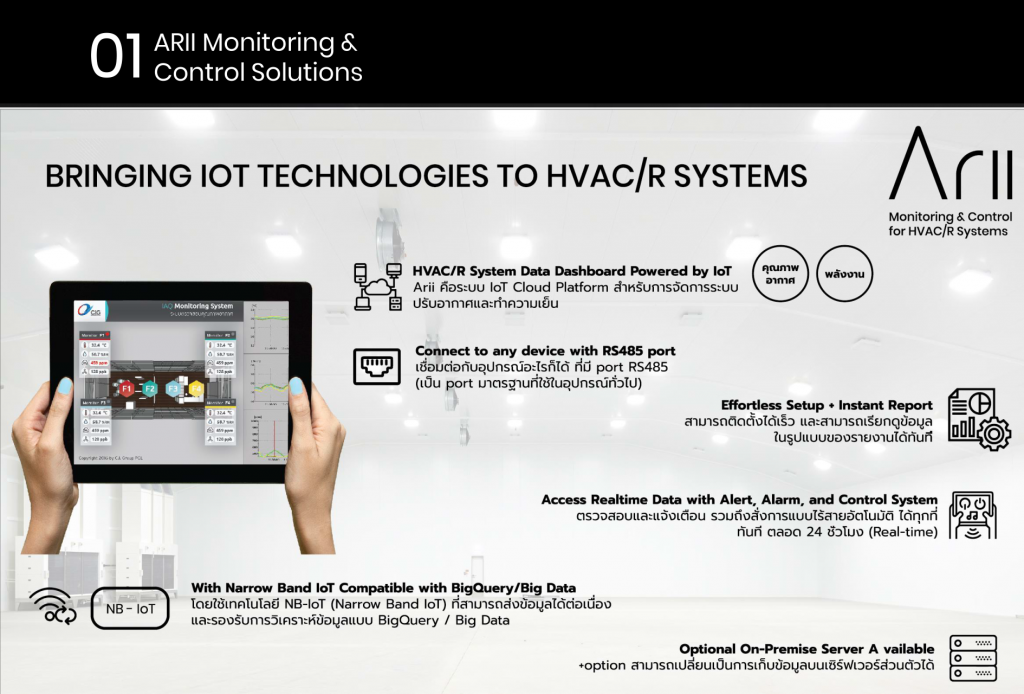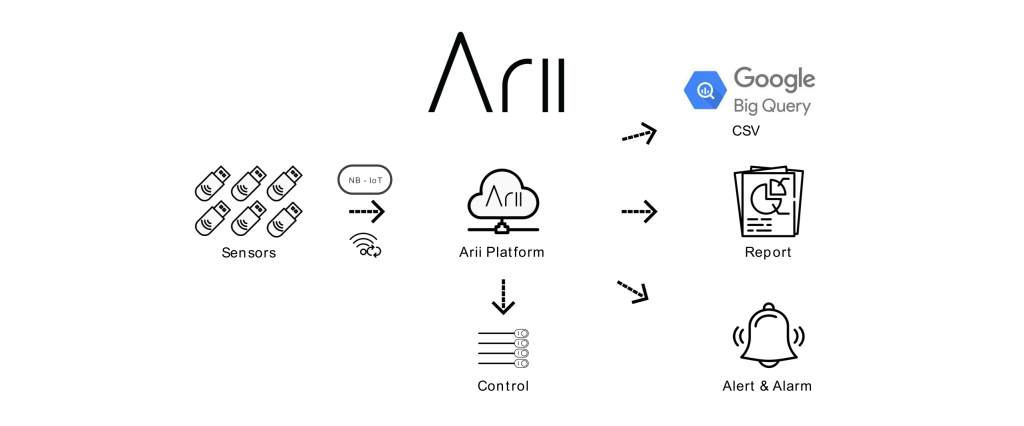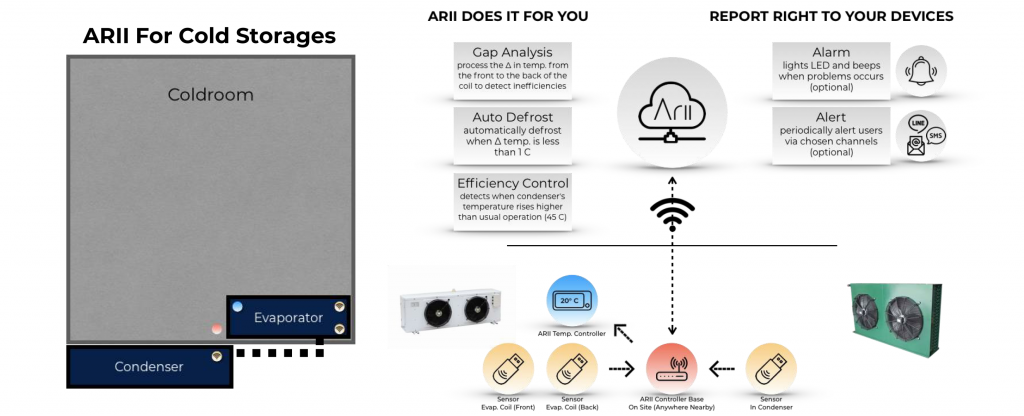 Presently, there are many efficient tools to analyze data for you; business intelligence, machine learning, etc. This has elevated the significance of data gathering to a whole new level.
This is where Arii comes in.
With our software solution, we enable our customers to retrieve all their data all in one place—Arii Platform.
Arii Platform gives you THREE options of how you receive your data.
BigQuery : where your data are accumulated and ready for analysis.

Zabbix : a ready made data logger for you to track your data in graphs.

Scada : integrating data with design where you can monitor your data easily with the help of our friendly interface.
With our Arii gathering data for you, all you have to do is login to ARii Platform and all the data will be ready for use. On top of that, our Arii is also compatible with most Building Management Systems (BMS) making it super easy to implement.
As of now, Arii is focusing on three main areas:
Energy Meter Pack –  to monitor the flow of electricity.

Environmental Meter Pack – monitor indoor air quality or brightness of the light with the option to control devices via WiFi.

Coldroom Pack – monitor the efficiency of your refrigeration system
Energy Meter Pack
This pack includes sensors that monitor the flow of electricity and Arii Platform. It tracks the usage of electricity from each of the electronics in your home, office, factory, or any other building. With this meter pack, you can locate the irregularities of those electronics as soon as they occur–even when you are miles away.
Energy Meter Pack Options
●      Energy Meter Sensors
●      Arii Platform
●      Device Control (Optional)
●      Alert Periodically (Optional)
●      Alarm (Optional)
Environmental Meter Pack
Choose to monitor Lightings, Indoor Air Quality, or both. Monitoring Lightings allows you to see the patterns regarding the lights in you place. This opens up a way to integrate WiFi controls over your lightings system.
Indoor Air Quality (IAQ) refers to the air quality within and around buildings and structures, especially as it relates to the health and comfort of building occupants. IAQ has become an increasingly important topic of interest among healthcare facilities and building management personals alike. Air-borne diseases and certain components like TVOC, CO and Co2, when exceeding a threshold, can lower an organization's productivity.
Key Benefits
Easy setup with various platform compatibility

Small in size

Wireless Connection

High accuracy

Can integrate with other BMS
Communication
The device supports WIFI, http and SNMP connections which means that you can place it at any corner of the room. The product has been tested on IGSS version V12.00 schneider electric (SCADA) and Zabbix version 3.0 (SNMP). Data is logged by polling from each node passing through the WIFI network. The maximum sampling rate is 11 sec. Depending on the responsiveness of the sensor which are IAQ – Core and SHT11. Both sensors provide digital data by I2C bus. There is no need of calibration. The amount of sensing unit depends on the wireless network system.
Our Monitoring IAQ have the options to measure:
–        Temperature, Relative Humidity, and CO2 equivalent
–        PM 10 and PM 2.5 equivalent
–        TVOC
Environmental Meter Pack
●   Monitoring Sensors (Lightings)
●   Monitoring Sensors (IAQ)
Temperature, Relative Humidity, CO2 Equivalent
●      Arii Platform
●      Device Control (Optional)
●      Alert Periodically (Optional)
●      Alarm (Optional)
Cold Room Pack
Arii for Cold Room is a little bit more specific in use. The system is designed to work with the refrigeration in cold room and storages. The sensors will be placed at the strategic points in the refrigeration system to monitor the efficiencies of the evaporator and condensers. Hence, it can automatically trigger the standard protocols and alert the people involved can be immediately when there is an anomaly in the system.
Coldroom Pack
●   Temp. Controller
●   Monitoring Sensors (IAQ)
Temperature, Relative Humidity, CO2 Equivalent
●      Arii Platform
●      Controller Base
●      Alert Periodically (Optional)
●      Alarm (Optional)
ARII by Applications
Office Buildings

Data Centers

Precision Cooling / Heating Systems

Healthcare Facilities

Power Plants